Special 20/ Rocket
Submitted by
Andrew
on Fri, 01/31/2014 - 10:39
Fits Hohner Special 20 and Rocket harmonicas.
Note: For best overall performance, don't change the comb of a Special 20 or Rocket harmonica. I recommend using the stock ABS comb and work to get better performance by using The Reed Plate Claws™ to straighten reed plates. I only offer Special 20 and Rocket combs because some hobbyists like to experiment with the tonal qualities of switching from an ABS "recessed" comb to a solid surface "sandwich-type" comb.
Special 20 and Rocket harmonica reed plates were designed to be used with a recessed comb. These reed plates do not have a groove into which the coverplate can lock in. Although you can install these reed plates onto a "sandwich-type" comb, you may experience a loss of airtightness if the coverplates become bent. You will find some useful tip on converting these harmonicas here. (Sandwich-type harmonica tips and tricks)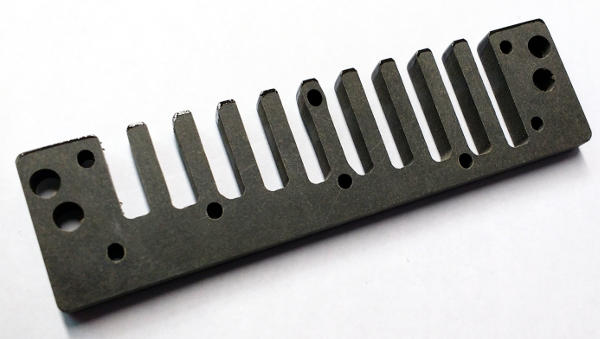 More information and instructions for installing my combs are found on the Combs page.