Hohner Affiliated Customizer program at SPAH 2018
Submitted by
Andrew
on Sun, 09/23/2018 - 15:07
"Nothing sounds as good as the Marine Band."
This is taken from Facebook Live (with permission) during SPAH 2018. Joe Filisko is joined by Richard Sleigh and Joe Spiers to discuss the Hohner Affiliated Customizer Program. There was some audio interference which caused a very loud and unpleasant sound in a few spots. I did my best to fix the audio in this edit.
More information about the HAC program is here.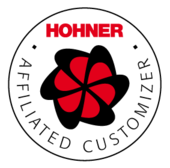 Also check out the Summer 2018 Hohner Easy Reeding magazine