I customize Hohner Marine Band, Rocket, Special 20, and Golden Melody harmonicas.
Custom Harmonicas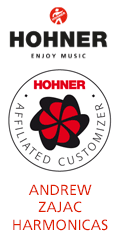 "The bends are mind blowing and so precise." / "Les bends sont hallucinants et tellement précis." - Martin, Québec, Canada
"They are wonderful! The tone is fat and smooth and the notes bend easily. I found myself playing runs I had never played before as I was fooling around and getting acquainted with the harp. I feel very comfortable playing it and I appreciate your correspondence concerning my playing style, breath force, etc. You were able to dial the harmonica in perfectly based on that information." - Michael, USA
"I must say that it is truly astonishing and this harmonica is indeed a subtle and precise musical instrument; probably the best I have ever acquired in recent years." - Jean-Luc, France
"Great response across the entire instrument and just a joy to play." - Matt, Illinois, USA
"I'm delighted with it. It has that slightly raspy sound I was seeking." - Ian, United Kingdom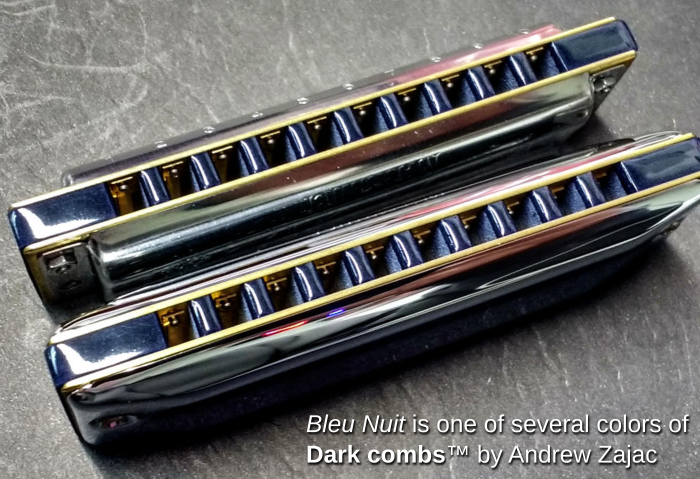 My production time is currently
Basic custom 95 Days
Full custom 120 Days
Overbend 140 Days
These times are approximate. Feel free to contact me before ordering to ask about lead times.
Completion date is the day I ship. Transit times to USA and Canada are usually 2 to 7 business days.
Upon receipt of your deposit, I contact you with questions. Once I confirm every detail with you, I commit to a firm completion date.
__________
Prices:
These prices include Canada/USA shipping and warranty
All prices are in Canadian Dollars.
BASIC CUSTOM
Play it soft to loud. Best value custom harmonica for second position playing. This harmonica packs a lot of power. It has very similar reed work to the Full Custom.
Click here for more information about my Basic custom harmonica.
Basic custom Rocket / Special 20 CAD$201
Basic custom Marine Band CAD$225
Basic custom Golden Melody CAD$235
Order here: Ordering page
------
FULL CUSTOM
Play it very soft (pianissimo) to very loud(fortissimo). Best choice for playing with ease in multiple positions and plenty of volume.
Click here for more information about my Full custom harmonica.
Full custom Rocket / Special 20 CAD$266
Full custom Marine Band CAD$290
Full custom Golden Melody CAD$300
Order here: Ordering page
------
OVERBEND CUSTOM
Play it very very soft (pianississimo) to very very loud(fortississimo). Best choice for fully chromatic playing.
Click here for more information about me Overbend custom harmonica.
Overbend Rocket / Special 20 CAD$450
Overbend Marine Band CAD$470
Overbend Golden Melody CAD$470
Order here: Ordering page
__________
All prices are in Canadian Dollars.
Any questions? Contact me and I will be happy to answer them.
Order here: Ordering page
__________
Warranty
This warranty applies to my Basic, Full and Overbend custom harmonicas.
Warranty includes one reed replaced for free within the first 30 days of reception. Reed replacement service is $10 per reed for the next 11 months after the free 30-day period. Customer pays for shipping. After 12 month warranty period, regular service charges apply. My custom harps get lifetime service priority which means I attend to them as soon as I can once I receive them.
It is acceptable to take apart your custom harmonica for regular cleaning. Any other work to the instrument will likely void the warranty. The reeds and reed plates are set with precision. Installing a different comb than the one provided or that I have not flattened myself will void the warranty because this will warp the reed plates.