Basic Custom Harmonica
Basic Custom Rocket, Special 20, Marine Band Deluxe or Golden Melody Harmonica
My Basic Custom harmonica was known as "Semi-Custom" before October 2018.
The new name clearly reflects the amount and quality of work done to the instrument which includes correcting all factory defects, high-impact improvements and Sympathetic reed work™.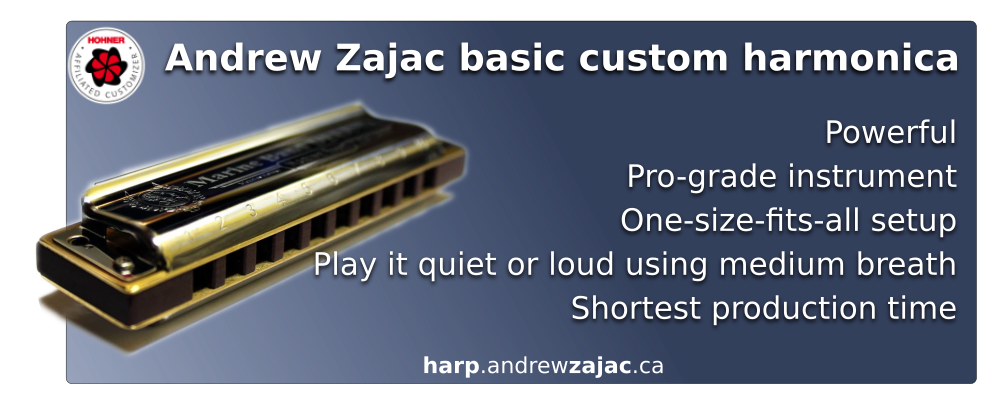 I offer Basic Custom Marine Band, Rocket, Special 20 and Golden Melody harmonicas.
Customized harmonica descriptions and pricing
All prices are in Canadian Dollars.
Basic Custom harps
Pick this option and SUBTRACT $65 from the price of the full custom harp.
June 2018 - "New Recipe"
My "New Recipe" basic custom harmonica has undergone high-impact improvements to ensure the tone, response and tuning is much better than a stock instrument. The New Recipe means I am choosing a different set of improvements than the original Semi Custom "recipe". These improvements include Sympathetic reed work™ . Expect a lot more punch, volume and dynamics without needing a lot of effort to play.
It is a pro-grade harp that is set up a little more than halfway in between a Full Custom and a stock harp. It aims to satisfy most players needs.
This is a one-size fits-all setup including compromise tuning where chords sound like they should without making single notes sound wrong.
This harp offers fantastic response. It's ideal for players who require a great instrument but feel that their playing style may not make use of everything a full custom harp has to offer.
Wait time for basic custom harp is 75 days or less for popular keys; contact me for details.
Price includes Canada/USA Shipping and Warranty (Same warranty as Full Custom harmonica.)