I customize Hohner Marine Band, Rocket, Special 20, and Golden Melody harmonicas.
Custom Harmonicas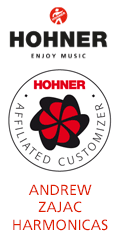 "Great response across the entire instrument and just a joy to play." - Matt, Illinois, USA
"I'm delighted with it. It has that slightly raspy sound I was seeking." - Ian, United Kingdom
My production time is currently
Semi custom 75 Days
Full custom 100 Days
Overbend 120 Days
These times are approximate. I try to keep an inventory so that I am not waiting on parts but I can't guarantee I will always have your key on hand. Feel free to contact me before ordering to ask about lead times.
Completion date is the day I ship. Transit times to USA and Canada are usually 2 to 5 business days.
Upon receipt of your deposit, I contact you with questions. Once I confirm every detail with you, I commit to a firm completion date.
__________
Prices:
These prices include Canada/USA shipping and warranty
All prices are in Canadian Dollars.
Semi custom Rocket CAD$179
Semi custom Marine Band CAD$203
Semi custom Golden Melody CAD$213
Full custom Rocket CAD$244
Full custom Marine Band CAD$268
Full custom Golden Melody CAD$278
Overbend Rocket CAD$369
Overbend Marine Band CAD$393
Overbend Golden Melody CAD$403
Order here: Ordering page
__________
All prices are in Canadian Dollars.
Any questions? Contact me and I will be happy to answer them.