Service
I offer warranty and post-warranty service on my custom harmonicas. Regrets, I do not offer service to other, non-custom harmonicas.
-------------------
Regular service will maintain your harps high level of response and volume far beyond the lifespan of a stock harp.
Send them to me as often as you like (or only when needed). Typically, players send me their harps about once per year.
-------------------
Custom harmonica service
(these charges apply after the 12 month warranty period)
CAD$30 plus shipping cost
- Brings the instrument back to like-new condition.
- Functional and cosmetic touch-ups as required.
- Tuning touch up using an analog Peterson Strobe Tuner to allow smooth playing.
- Replacement of blown/fractured reeds (CAD$5.00 extra charge per reed).
- I aim for a turnover time of two weeks or less starting from the day I receive the harp to the day I ship it back to you.
Extra charges may apply to deal with non-normal-use related wear (Example, dropped, smashed or crushed components.)
-------------------
Cleaning
To avoid added charges, please send me a clean instrument. If there is buildup inside the harp, please take it apart and gently clean the reed plates and covers with dish soap and water. Please clean non-wooden combs in the same manner. Do not use alcohol - it doesn't clean or kill germs very well.
If you prefer that I clean your harmonica, that's no problem.
Extra cleaning charge - CAD$10
-------------------
How do I send you my harps?
Please download, print and fill out this form: Service form. Don't forget to include it along with the harps you are sending me!
Shipping a handful of harps to me costs about $10 plus tax via USPS or CanadaPost. I prefer to use insured shipping when sending your harps back to you.
US residents, I recommend USPS. There is no duty on harmonicas (customs code 9205.90.1900) coming across the Canada-US border. Some carriers charge brokerage fees on items of greater value than CAD$20 coming into Canada - please check with your carrier if you are not using USPS since I cannot afford to pay these fees. Many carriers do not charge any brokerage fees.
-------------------
The real cost of a custom harmonica
My service extends the life of the instrument. Reeds can be replaced, the tuning can be adjusted and the harp can maintain its high level of response and volume far beyond the lifespan of a stock harp.
My custom harmonicas are much better instruments than stock. Despite the higher initial cost, over five years the overall cost of ownership of a semi-custom or custom harmonica is significantly lower than the cost of stock, off-the-shelf harmonicas. My custom harmonicas offer much better value than stock instruments.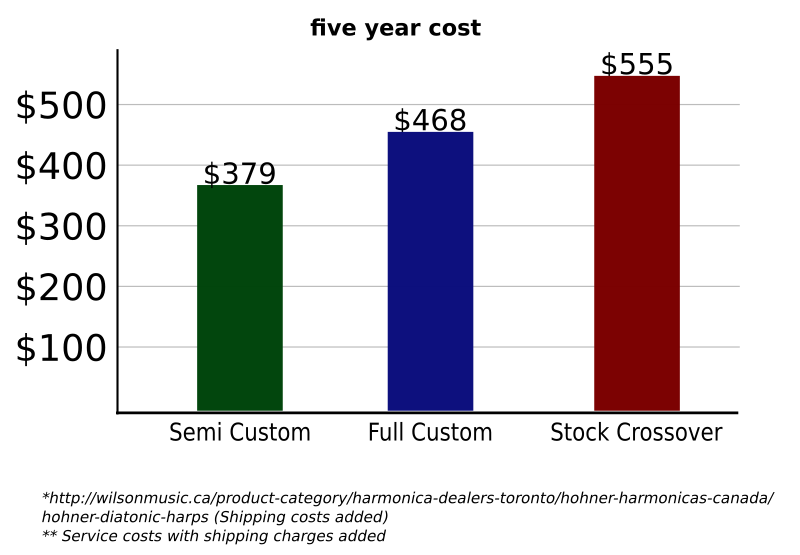 Comparison: Over Five years:
Hohner Crossover* - $111 x 5 = $555
Semi custom Hohner Rocket - $179 + $200** = $379
Custom Hohner Marine Band Deluxe - $268 + $200** = $468
** Service costs with shipping charges added