Custom Marine Band Harmonica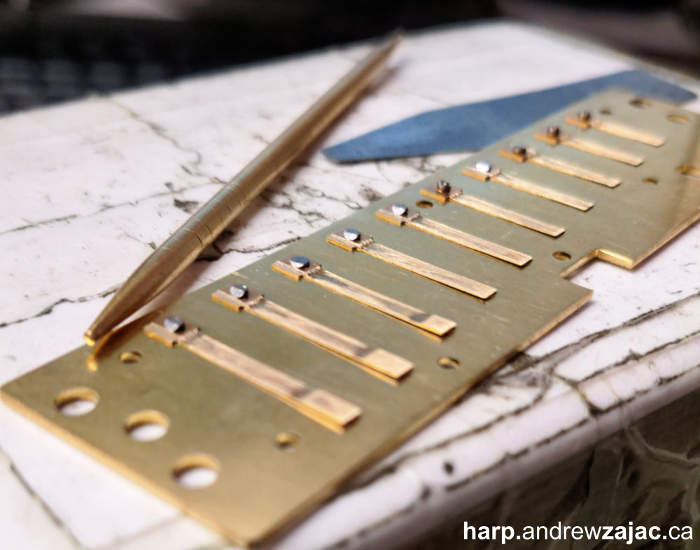 Full Custom
My custom harmonicas require hours of meticulous work on all parts of the instrument, especially the reeds, to provide deep tone and unmatched responsiveness.
Available as:
- Rocket
- Special 20
- Marine Band Deluxe or Crossover
- Golden Melody Classic (Not the Progressive version)
My Full custom is a very powerful instrument that is tailored to your needs. It's an excellent choice for playing in multiple positions with plenty of control and volume using very little work.
Play it very soft (pianissimo) to very loud(fortissimo).
Standard features include:
- Marine Band Deluxe/Crossover or Golden Melody using my custom Dark comb™
- Special 20 or Rocket using upgraded stock ABS comb
- Covers fashioned with two stainless steel screws in the front
- Marine Band choice of cover plates (Deluxe, Crossover, Rocket, Rocket AMP, Rocket Low)
- High-performance work done to every aspect of the instrument, including sympathetic reed work™ and high-precision Analog Strobe tuning.
- 12 month warranty + lifetime service
- Free shipping to Canada and USA
Overblows:
Can this harmonica play overblows "straight on"?
Yes. Overblows and overdraws can be played as passing notes using regular breath and you may be able to sustain them but this harp is not specialised for overbends. If you want easy playing overbends or to sustain or use vibrato with overbends, I recommend my Overbend Custom.
Free tuning options
Tuning temperament:
- Compromise (recommended)
- Just Intonation
- Equal temperament with perfect octaves
Also available, tuning to 432Hz as well as altered tunings
Extra features:
- Conical cover plates (Thunderbird covers), add $15
- Pearwood comb (flattened, chamfered edges, lacquered tips and channels. Do not submerge under water), SUBTRACT $10
Can your used harps be customized?
- For the very best results, I obtain reed plates and covers directly from the Hohner factory in Trossingen, Germany. There are no significant savings for the customer once you take into account shipping a used instrument to me and the added labour of working with a used instrument.
Protection
- Traditional plastic case
- Black Zipper case, add $10
- Hohner Flex Case M, please inquire. (Best option when ordering multiple harmonicas at the same time.)
Multiple discount:
- Save $10 per additional harp (not counting the first one, per order)
Shipping options:
- Free shipping to USA and Canada
- International shipping - please contact. Expect up to $45 extra for Europe and up to $75 extra for tracked shipping to other countries.
Non standard Low and High Keys
- Low F#, Low F, Low E, Low Eb, Low D, High G, Add $50
- Low C, Low Bb, Low A, Low G, Low Low F, Add $75
Any questions? Contact me and I will be happy to answer them.