Full Toolkit (The most complete toolkit available)
Submitted by
Andrew
on Fri, 01/31/2014 - 09:46
The most complete harmonica tool kit on the market.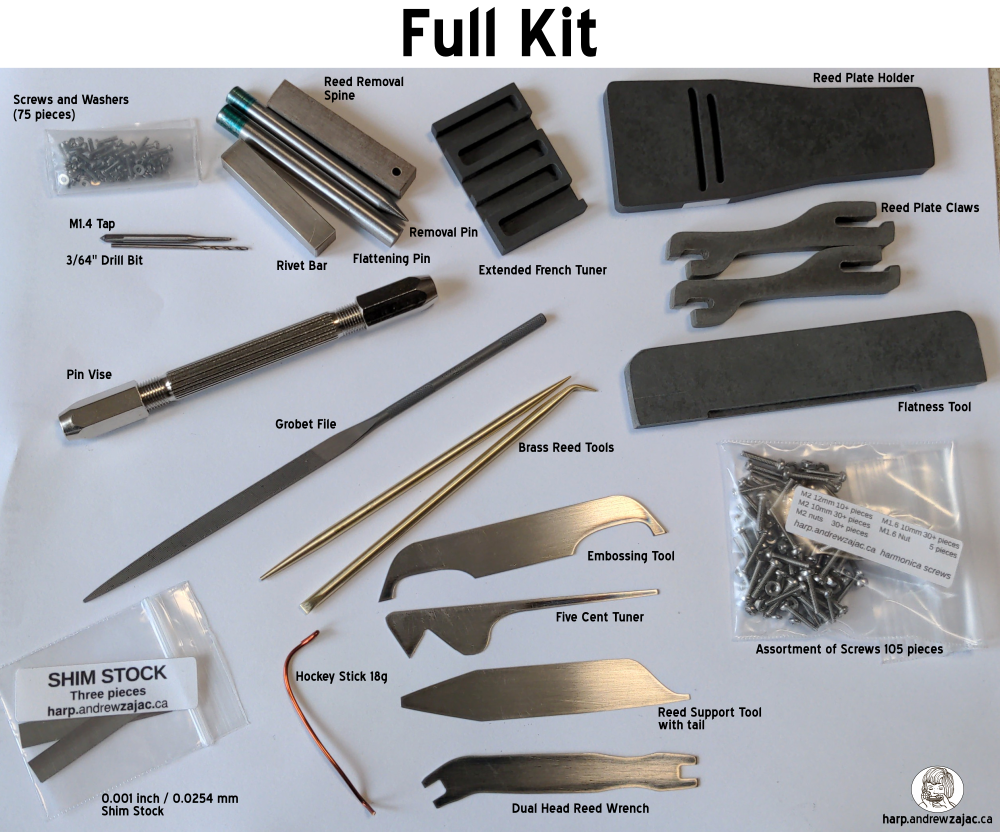 Full Toolkit:
Includes:
-Extended French Tuner™
-Five Cent Tuning Tool™
-Grobet Tuning File 0-cut
-The Flatness Tool™ and Reed Plate Claws™
-Dual Reed Wrench
-Embossing tool
-Reed support tool/Plinker
-Brass Reed Tool Set
-18g Hockey Stick
-Reed replacement Kit
-Stainless Steel harmonica screws - 105 pieces:
10+ pieces M2 12mm
30+ pieces M2 10mm
30+ pieces M2 nuts
30+ pieces M1.6 10mm
5 pieces M1.6 Nut
-Shim Stock (three pieces)
-Instructions Pack and email support
____________________
____________________
____________________
This complete kit will help you with every aspect of upgrading your harmonica including:
- The Reed Plate Claws and Flatness Tool are the most effective tools available to make your harmonica airtight.
- The tuning tools work to save you time by allowing you to tune with the reed plates on and off the comb.
- The Brass Reed Tool, Reed Support tool/Plinker and embossing tool can perform advanced techniques like reed work and embossing.
- Replace reeds like changing a string on a guitar.
____________________
These tools are hand-made. They are made to work with all brands of diatonic harmonica.
They are shipped promptly.
Email support is provided with the purchase of these tools. Within the first 90 days of purchase, I will answer any question about using the tools, just email me your questions.
____________________


CUSTOMIZE IT: